Category:
Opinions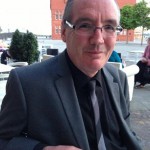 I first met Denis Joe at the Bluecoat School in south Liverpool in 2013 around the same time I moved to the city. We were both acting as judges for the Debating Matters school debating competition. As soon as we started talking I knew we would become friends. Denis had a wry sense of humour, an original turn of mind and a great rapport with the young people taking part in the competition.  He was softly spoken, but very sharp and confident whenever it came to putting the young contestants through their paces. When I got to know Denis better I saw that his determination to speak out and challenge received wisdom grew out of a restless nature which refused to simply fit in. This impatience with the way things were gave Denis equal measures of fulfilment and pain.  Not having a ready-made niche to fit into, he created his own and shared it with others through his love of writing, talking, music, poetry and politics.
Denis worked with John Hutchinson, Christopher Beckett, Kevin Bean and myself to launch the Liverpool Salon as a forum for public discussion on Merseyside. Our first discussion, held at the Athenaeum Club in Liverpool in spring 2014, was on the theme of borders and immigration. Two years later, the Liverpool Salon is still going from strength to strength. The last time I saw Denis was at the August Liverpool Salon where we discussed the implications of the EU referendum. As usual Denis made some brilliant contributions to the discussion. One of them was so insightful that I wrote it down and checked it back with him afterwards. It's published unattributed among all the comments:
This is what he said:
"In this second decade of the twentieth century, we've seen massive challenges throughout the world and attempts to re-interpret democracy, in global situations where people can't see any political alternative and there are no alternatives being put forward. The uprisings in Turkey represented a challenge to the establishment but also an attempt to redefine what democracy is. So, it's no longer about numbers of people voting on a particular policy or manifesto but numbers of people coming out onto the streets. This is 'democracy without elections'. But it's very unstable……..However, if we think about the EU referendum, what makes it so special, and probably, I would say in this day and age almost revolutionary, is that the British electorate have taken it upon themselves to take an anti – establishment stance but have used 'democracy with elections' to deliver it……And I'm wondering, does Brexit show that the only way that democracy can work is actually through elections, or through referenda which channel the collective voice of the people, rather than having a mass of people out on the streets?"
Thoughtful, engaging and generous with his ideas, Denis was a very sensitive man. Although outspoken about his political beliefs, he was protective of his private life. As I got to know him better I found out that he had been born the eldest brother of 5 children in a working class Irish Catholic family. I found out more about the struggles he had with his health. And I also got to know how deeply he loved his family and how angry and impatient he got with himself whenever he felt he had let them down or let himself down. Denis passed away at home in Liverpool on 25 October 2016 after a year in which he had suffered greatly with his health, but had battled on bravely.  It was a an awful tragedy for his family and friends. Although his death was sudden and untimely, Denis knew he was blessed with a wide circle of good friends and a loving family and he enjoyed his books, music, politics and writing to the end. We all miss him very much but we're glad to have known him and thank him for helping to set up the Liverpool Salon and for contributing to its success. Denis will be remembered with great admiration and affection.
Pauline Hadaway
« Previous Page
—
Next Page »