Review 'Still Ill' by Billy Cowan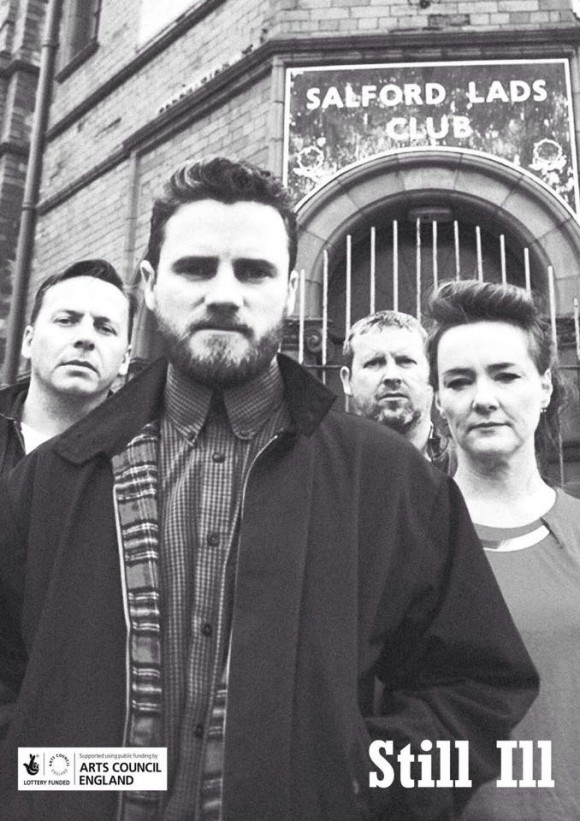 Truant Theatre Company's Still Ill by Billy Cowan, at Lantern Theatre, Liverpool 21 November.
Set in 'post conflict' Northern Ireland,Truant Theatre Company's Still Ill tells the story of two estranged brothers – Manchester based, upwardly mobile Tommy (Neal McWilliams) and Davy (Ian Curley), a deadbeat, small time drug dealer who never left his native County Down. When Davy comes under threat from Loyalist paramilitaries, younger brother Tommy is drawn back to help sister in law Elaine (Alison Darling) straighten things out. As bitter familial resentments prove irreconcilable, Tommy regrets getting involved and offers Davy and Elaine money to pay off the paramilitaries. Just as he is making ready to leave  for England, an encounter with old friend, Gary (Sean Croke) re-ignites  a dangerous passion. Caught up in a heady mix of sexual desire and nostalgic yearning, Tommy stays longer than is wise.
A classic tale of a house divided, Still Ill avoids cliché and crude schematics to confront bigger questions, not least the problem of how to live authentically both within and outside the rigid bounds of community and inherited tradition. As a young gay man Tommy shook the small town dust from his feet, sacrificing love, friendship and family ties for the freedom to make his own choices. Rewarded with a stable home, good job and loving relationship, tragedy follows his desire to reconnect to the old days and a boy he left behind.
With its fierce loyalties and bottomless wells of grievance, Northern Ireland provides a suitably edgy, doom-laden setting for Billy Cowan's fast paced drama. Under Joyce Branagh's tight direction, the small cast turns out some finely observed performances in a play that crackles with energy. Much of the action is male dominated, whether projected physically or  through an underlying sense of menace. Preening, glowering and posturing in true Northern Ireland fashion, the men demand all our attention, while  Alison Darling mesmerizes as the twitchy, sharp edged Elaine, unfulfilled and seething with pent up desires and sexual neurosis.
Having placed Tommy's sexuality at the centre of the story, Cowan's interest extends far beyond any single issue. Beneath the swagger and banter, his tightly scripted dialogue captures the sad, brittle tone of small town begrudgery. More claustrophobic than homophobic, here is a place where everyone is sure to receive his or her fair share of disappointment. The play cleverly sets up an intriguing symmetry between the clandestine nature of Gary's sexual activities and his paramilitary role. Having glimpsed the moral weakness of the man behind the mask, I would have enjoyed some further, more critical examination, to pick away at his uncomplicated self-image as a victim of circumstances.
Billy Cowan is a provocative writer with an original turn of mind. In an earlier play, The Right Ballerina, a fictionalized version of the true story of one of Britain's top ballerinas, forced to resign after being outed as a BNP member, Cowan confronted the mood of intolerance and moral grandstanding  infecting certain sections of the Left. Not surprisingly, the play ruffled a few feathers at its first showing at the Lowry in 2012. In an increasingly censorious climate of celebrity witch-hunts and twitter campaigns demanding 'no platform', The Right Ballerina may well be due a revival. In any event, Billy Cowan is clearly a writer with a knack for digging around in the moral complexities of our times. I look forward to hearing more from him.
There is still time to see Still Ill at:
Seven Arts, Leeds
28th Nov 8pm
Tickets on the door or
Via Ticketsource @
www.sevenleeds.co.uk