Review: 'Moses und Aron'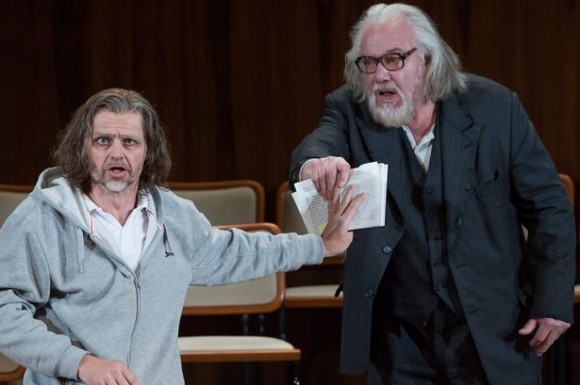 Reviewed by Denis Joe
Welsh National Opera's (WNO) production of Arnold Schönberg's unfinished opera is an opportunity to to experience this rarely staged masterpiece. Schönberg had intended to finish the opera and the Hungarian composer Zoltán Kocsis completed the last act, with Schoenberg's heirs' permission, in 2010. As of 2014 Moses und Aron is generally performed as Schoenberg left it in 1932, with only two of the planned three acts completed.
The first performance of the opera (which feels more like an oratorio) took place in concert version of the music at Darmstadt on 2 July 1951. The British première took place at the Royal Opera House, London, on 28 June 1965, under the baton of George Solti. The Metropolitan Opera first staging of the opera was in February 1999 under the baton of James Levine with John Tomlinson in his debut role as Moses. Even though there were many supporters of Schönberg's music, the difficulty of staging the opera seems to be the complexities of the role of the chorus, who dominate throughout.
I caught a performance of Moses und Aron last June, in Birmingham. I have a couple of recordings and so I was delighted when WNO announced their production as I never thought I would have a chance to see a staged production.
Schönberg's development of  dodecaphony (twelve-tone serialism) is one of the most revolutionary developments in music. Mainly it is discussed in a dry, academic, way, but it freed music to give it the most intense emotional expression, owing a great debt to Mahler, whose music came very close to the 12 tone approach. Schönberg's Kol nidre and A Survivor from Warsaw are just two examples of the intensity of  Schönberg's approach. But his ultimate triumph is, for me, Moses und Aron.
The theme of the opera is the second commandment:
"I am the Lord thy God, which have brought thee out of the land of Egypt, out of bondage. Thou shalt have no other gods beside me. You shall not make for yourself any graven image, or any likeness of what is in heaven above, nor of what is on the earth beneath, nor of what is in the water under the earth: Thou shalt not, nor serve them."
John Tomlinson returns as Moses, after first singing the role at the Metropolitan Opera in New York in 1999. Tomlinson, though he doesn't sing in the role, uses the freedom of Schoenberg's speech-song to express regions of growl and lament. I have seen him in many productions, and his very presence on stage has always dominated. Although his voice may not be as strong as when I first heard him in Mussorgsky's Boris Godunov, 1989, he still remains overwhelming. From the opening scene where Moses hears the voice of God telling him to lead his people out of Egypt, then pleading "clumsiness of tongue" God promises that Aron (Rainer Trost), Moses' brother, will help him to communicate the commandments to the Jews.
Rainer Trost gives an outstanding performane as Aron. In the second scene, where he makes an appearance, the duet between him and Tomlinson, Du Sohn meiner Vater, is hair-raising. Both men struggle to reach an understanding of an invisible God. When the people hear of Moses' return, they question him about this new God, but they cannot understand.
The WNO Chorus dominate much of this difficult opera. They are outstanding in delivering their parts and are the real stars of this production, particularly in the beautiful interlude between the two acts. The orchestra, led by the outstanding Lothar Köenigs, also deserve credit for their effortless navigation through the score. This is also evident in the Interlude.
In Act 2 the people have turned away from Moses, who has been on the Mountain of Revelation for 40 night and days, and has not returned (Wo ist Moses? Wo ist der Fuhrer?). The people plead with the Elders to return their old Gods. There is a dance to the Golden Calf where Aron, intending to find a compromise between an explanation of God and the need for idolatry (Diese Bild bezeugt dass in allem was ist ?), joins in.
When Moses does descend from the mountain the images that his brother has created vanish (Vergeh, du Abbild des Unvermogens?). Aron counters that Moses gives the Israelites only a limited understanding. Moses destroys the laws of God, but Aron is determined to keep the laws of God alive. For Moses, dejectedly, is left behind and realises that 'God has become silent', and Schönberg's opera raises important questions about faith: in the absence of absolute truth what are we to believe in?
Although Schönberg had written out a third act it was never composed to music. The most famous operas that have been left unfinished and have had their endings composed by later composers are Puccini's Turandot and Alban Berg's Lulu. Both benefited, but in my opinion Moses und Aron would not benefit from a score of the third act being imposed. I think that the ending of the second act is ideal, allowing us to ponder the question of faith and belief in general. I could not imagine a third act being anything other than attempt to give an explanation, which would be a great disservice to the work.
One should mention the stage production by Jossi Wieler and Sergio Morabito. Some of the reviews have been very critical of it. The first act being set in a kind of parliament whilst the second is set within a cinematic environment. I would say that the production added much to this incredible work, and that it challenges us to address some of our most important issues of what it means to be human.
WNO's production of Moses und Aron is on performed at the Royal Opera House in Covent Gardens this weekend (25 Jul – 26 Jul). It is a great opportunity to experience this rarely performed work, with such an outstanding cast.